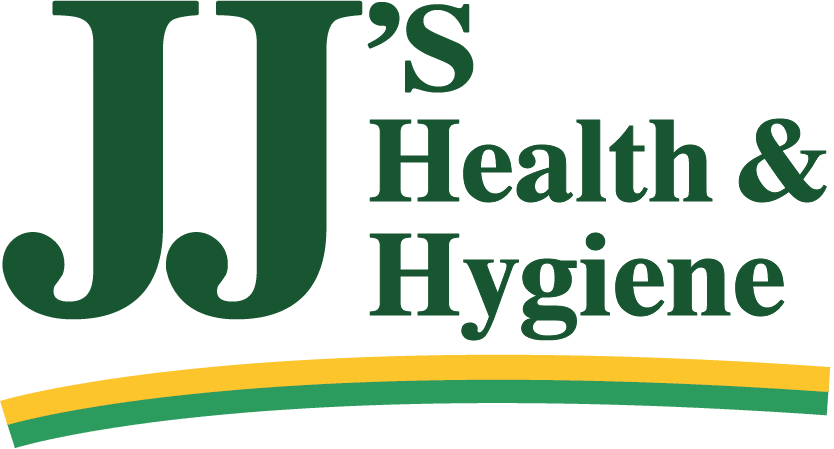 Hygiene & Washroom Services
Maintaining Health and Hygiene in your business is made easy with JJ's Health & Hygiene's superior washroom services.
JJ's Health & Hygiene is a key provider of health and hygiene solutions for businesses, with a focus on superior washroom services to enhance workplace cleanliness and comfort. We offer a broad product range, including touchless and manual soap and sanitiser dispensers, 1L refills, surface sprays, toilet seat cleaners, hand gels, and various soaps.
Our hand drying solutions and urinal deodorised mats ensure long-lasting freshness. In clinical settings, we facilitate sharps waste management and offer lockable clinical waste bin solutions in sizes ranging from 35L to 240L.
Additionally, our air care and hygiene solutions, equipped with wall-mounted air fresheners, odor control, and insect sprays, promote a more pleasant ambience.
With JJ's Health & Hygiene, maintaining health and hygiene in your business has never been easier.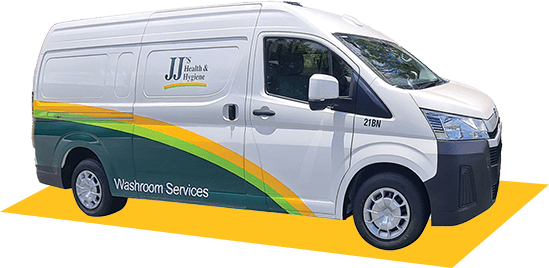 Sanitary & Infant Disposal Bins
Our Sanitary Bins and Hygiene Solutions cater to a broad range of needs, contributing to a cleaner, safer, and more comfortable environment.
For a touch-free, hygienic experience, we provide automatic bins equipped with motion-sensor technology. Our manual bins offer an efficient, cost-effective option, while specialised bins cater to the needs of infant and incontinence waste disposal, prioritising odour containment and sanitary conditions.
Understanding the serious implications of improper sanitary disposal, such as sewage overflows and potential health risks, we offer the Femcare sanitary disposal service. This bin solution features a slim, discreet profile for easy placement in washroom cubicles. Our service includes timely replacement, sanitisation, and relining of used bins, ensuring consistent hygiene standards.
We offer sanitary bins suitable for businesses, schools, kindergartens, and crèches, reinforcing our commitment to hygiene and cleanliness across diverse settings.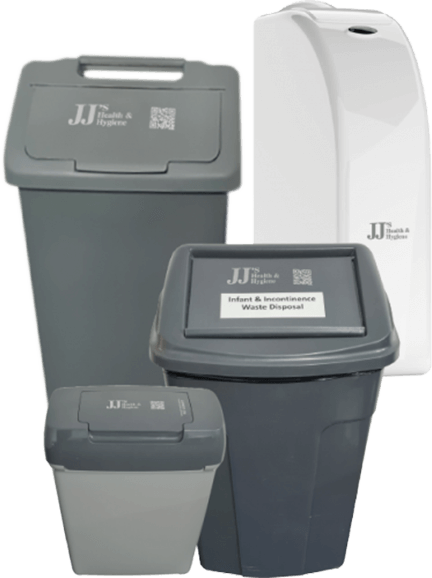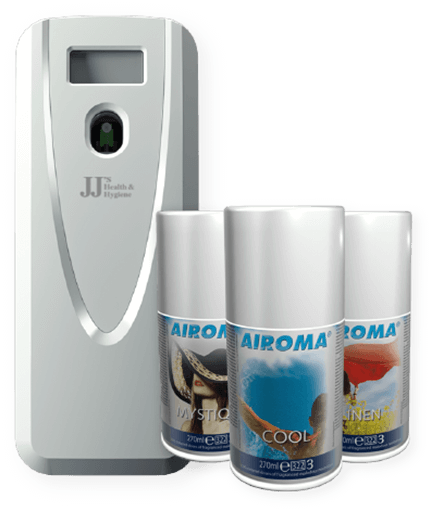 Our Air Care Solutions include eco-friendly, low-maintenance air fresheners, odour neutralisers, and natural insecticides to keep your space fresh and pleasant. The battery-operated automatic air freshener system delivers fragrance bursts to control odours and maintain a long-lasting clean scent, thanks to its small particle technology.
We also offer high-quality natural pyrethrin refills for insect control in sensitive areas. Available in various fragrances, these refills ensure your environment remains fragrant throughout the day. With user-friendly programming, you can tailor the operation to your specific needs, providing a welcoming and hygienic atmosphere.
Our Urinal Deodorised Mats ensure a fresh, clean washroom experience. These innovative mats utilise a three-tiered approach of deodorising, cleaning, and organic matter removal. The Ultimate Urinal Mat, made of premium EVA, combines a biological deodoriser block with non-pathogenic bacteria, which effectively break down urine by-products, thereby reducing odours.
Packaged individually for optimal hygiene, the mat retains its fragrance for up to a year when properly stored. Its unique design facilitates rapid urine dispersal and prevents splashback and residue buildup. Fully recyclable and VOC-free, this industry-leading urinal mat is suited to both waterless and standard urinals, offering an eco-friendly solution to washroom odour control.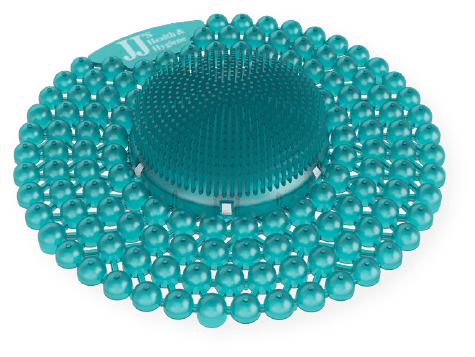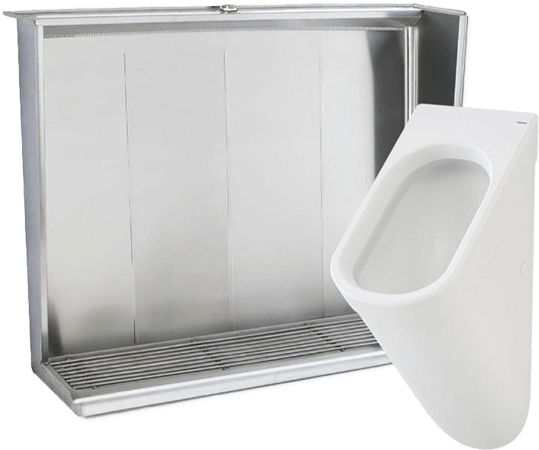 Our Urinal Deep Cleaning service provides a thorough cleansing and de-scaling of urinals, focusing on the elimination of odours, bacteria, and germs to significantly enhance the washroom experience. Unlike regular surface cleaning, our approach delves beneath the surface to effectively remove stubborn scale deposits and mineral build-up from drains, fittings, outlets, and urinal steps.
Conducted by our trained service technicians, this comprehensive hygiene treatment employs environmentally safe agents that not only leave urinals looking like new but also actively combat germs and bacteria. This methodology significantly reduces offensive drain odours, effectively tackling the root causes of foul smells rather than merely masking them.
In addition to this, our urinal cleaning service has an environmental edge as we solely use environmentally friendly cleaning compounds. This service signifies our commitment to offering sustainable, high-quality solutions to hygiene and washroom needs. Reach out to one of our hygiene and washroom specialists today for a cleaner, fresher washroom experience.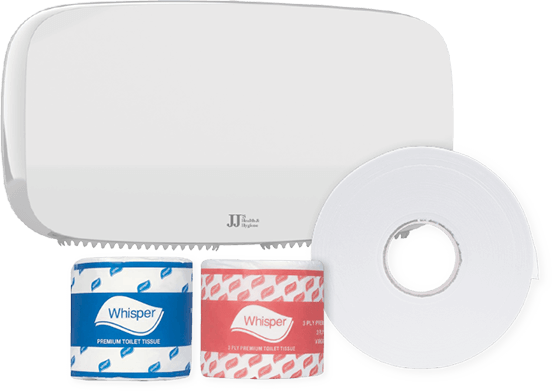 At JJ's Health & Hygiene, we offer efficient and stylish Toilet Paper Dispensers to suit varied needs. Our durable dispensers, available in dual-roll or single-roll configurations, effectively handle high washroom traffic. They are designed to encase paper, preventing cross-contamination from airborne bacteria. Made from high-quality ABS material, these dispensers resist tampering, dust, and dirt, promoting hygiene.
Our innovative Multi-Roll dispenser, with its soft-edge features and antimicrobial blades, ensures a clean cut for every use. It blends seamlessly with any bathroom decor, offering a balance of aesthetics and practicality. We provide refills in the form of 100% recycled toilet rolls or absorbent jumbo rolls.
Contact us today for superior toilet paper dispenser services.
Hand Washing / Sanitisation
Our range of hand hygiene solutions ensure a clean, safe environment with touchless and manual soap and sanitiser dispensers, coupled with 1L refills for continuous supply. Our diverse product selection, including surface spray, toilet seat cleaner, hand gel, shower soap, and hand soap, covering all your hygiene needs.
Our manual soap dispensers feature a modern design and utilise recyclable cartridges and pumps. Each recyclable cartridge comes with a new pump, ensuring reliable product delivery and reducing maintenance. The closed system prevents contamination, enhancing hygiene levels.
For the utmost hygiene, our automatic soap dispensers offer touch-free dispensing. These dispensers utilise similar recyclable cartridges, delivering consistency and minimising maintenance. This eliminates contamination risks, offering an efficient solution for commercial soap and sanitiser dispensing.
Our touch-free sanitiser Spray Station is a practical solution to limit cross-infection without the need for soap or water. Ideal for high-traffic, high-risk areas like medical centres, schools, offices, and more, it offers users antibacterial spray doses, killing 99.9% of common germs. Refills are available for our soap and hand sanitiser products, ensuring uninterrupted hygiene maintenance.
Contact us today to learn more about our Hand Washing / Sanitisation Services. We're committed to maintaining a safe and hygienic environment for your staff and visitors.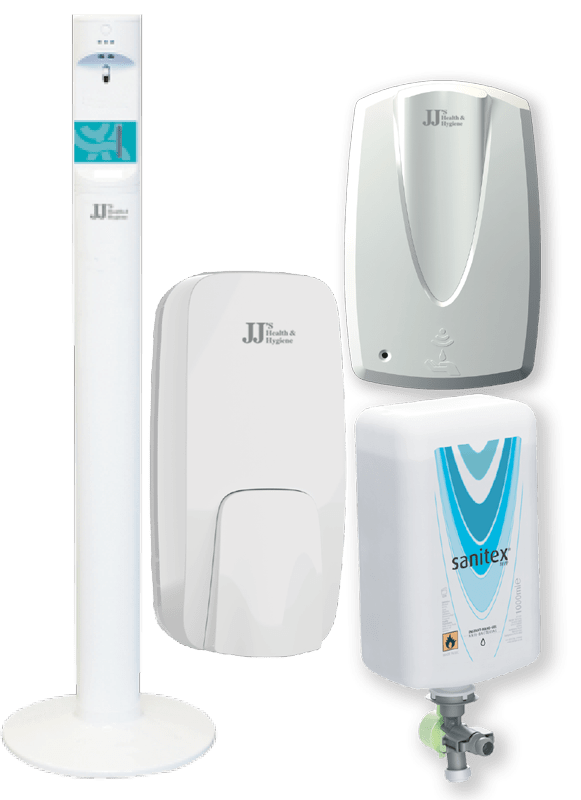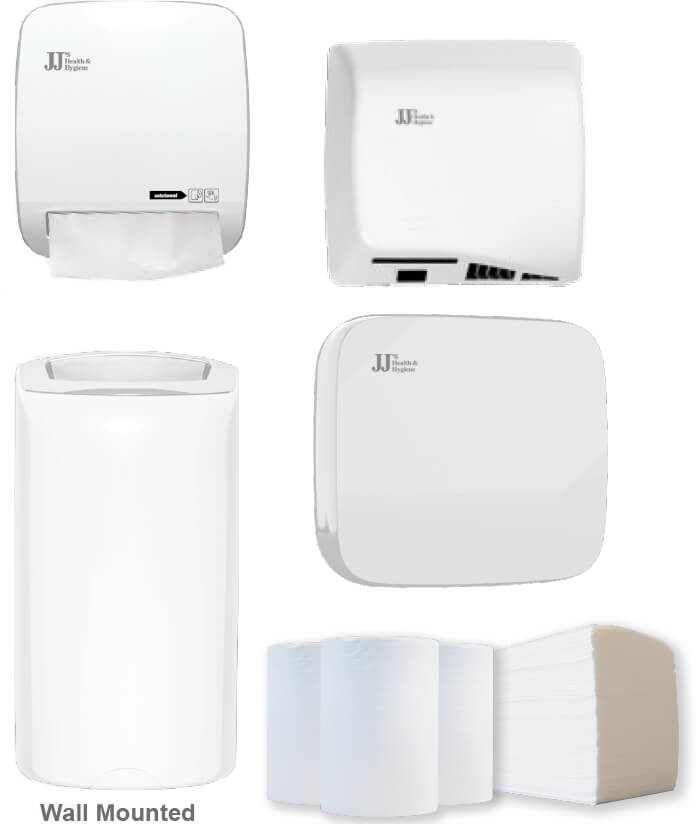 At JJ's Health & Hygiene, we offer efficient hand drying solutions to ensure a comfortable experience in all washroom environments. We provide a range of hand towel dispensers, bins, and a selection of towel options, all aimed at enhancing your hygiene regimen.
Our paper towel dispensers are backed by studies, highlighting that they are more effective and hygienic compared to some hand dryers, reducing the spread of bacteria by up to 77%. We offer an assortment of dispensers, including the Manual Feed, Interfold, and Autotowel Paper Towel Dispensers. All are designed to provide the right amount of paper towel for complete hand drying.
Complementing our dispensers, we offer wall-mounted waste paper bins. Sleek, white, and compact, these bins are ideal for smaller spaces and offer an ease of cleaning around the unit. This solution ensures users have ready access to dispose of used paper towels neatly.
We provide two refill options: Autoroll and Multifold paper towels. Our Autoroll towels, designed for the Autotowel dispenser, offer a hygienic, cost-effective, and environmentally friendly hand drying system, with controlled dispensing that reduces waste. These towels are soft, absorbent, and safe for sensitive skin.
Our Mulitifold paper towels offer a traditional hand-drying solution. These high-quality, soft, and absorbent towels are a perfect addition to our paper towel range.
For comprehensive hand drying solutions that prioritise hygiene and user comfort, contact JJ's Health & Hygiene today.
Clinical & Regulated Waste Removal
At JJ's Health & Hygiene, we offer a comprehensive range of clinical and regulated waste management services, ensuring safe disposal within healthcare settings. We cater to different needs with clinical waste bin solutions in sizes ranging from 35L to 240L.
Our services include the collection of a wide range of waste types including clinical, cytotoxic, pharmaceutical, anatomical, sharps, secure destruction, and quarantine waste. Our approach is geared towards reducing infection risk, promoting better waste segregation, and creating a safer and more efficient waste management system.
Management of your clinical and regulated waste is complex. At JJ's Health and Hygiene a complete solution driven process is guaranteed from providing required bins, collection and dispsoal in line with licencing requirements.
Reach out to JJ's Health & Hygiene today for a secure and efficient solution to your clinical and regulated waste removal needs.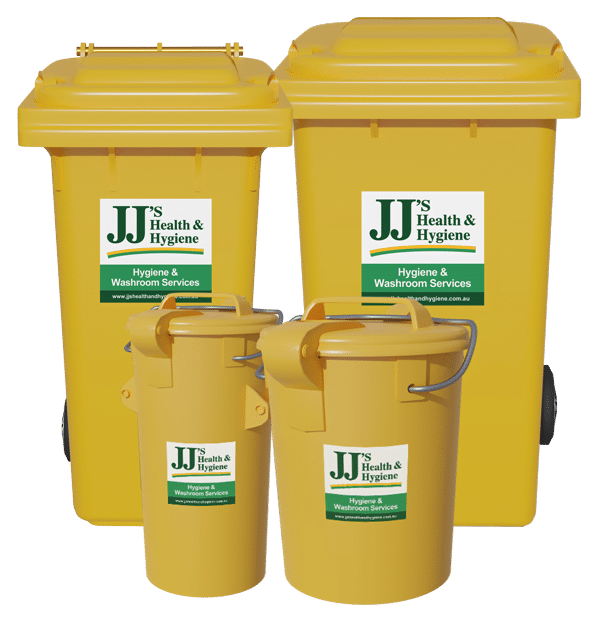 Not all services may be available in all areas. Please contact your local depot to check service availability.