EnviroCom Australia® (EnviroCom) is a division of JJ's Waste that specialises in the provision of environmental management, education, communications and training for Government and industry throughout Australia. EnviroCom has offered specialised consultancy services to the public and private sectors since 1998 and, over this time, has demonstrated expertise in strategically planned environmental education, behavioural change, training, research and planning projects.
The EnviroCom team work in partnership with customers to assess needs and provide the most effective, cost efficient and environmentally sustainable solutions for each situation.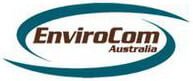 Through the wealth of projects delivered and the diversity of services and capabilities on offer, EnviroCom customers can enjoy a tailored service through a variety of solutions. EnviroCom has the expertise and experience to provide sound consultative advice and to develop and implement environmental initiatives.
EnviroCom's services include:
Environmental training
School presentations
Curriculum materials
Community presentations
Information packages
Public place displays
Brochure design
Media liaison
Education centre design
Bin inspection programs
Strategic planning
Waste auditing
Community surveys
Landfill composition analysis
Waste management studies
Waste management plans
Waste management research
For more information, please visit the EnviroCom Website.