Domestic Waste Collection Services
JJ's Waste & Recycling performs domestic waste, recycling and green/food waste collection services under contract for Local Government throughout Australia and New Zealand. This equates to more than 2.6 million wheelie bin collections every week.
Domestic Waste Bins Sizes
Domestic Recycling Bins Sizes
Domestic Green Waste Bins Sizes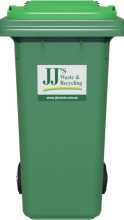 120L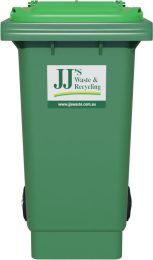 240L
JJ's Waste & Recycling provides the following additional waste and recycling services to local authorities:

Park and Street Bins

Roll-on Roll-off Waste Transfer Station Bins
15m3, 30m3 and 60m3

Bulk Waste Bins
660L, 1100L, 1.0m3, 1.5m3, 2.0m3, 2.3m3, 3.0m3, 4.0m3, 4.5m3

Kerbside collection

Dead animal collection
During the performance of hundreds of past and present domestic contracts, JJ's Waste & Recycling has acquired considerable expertise in assessing waste management requirements and designing, implementing and operating the best system for each situation.
During the tendering process, JJ's Waste & Recycling combines over 85 years of systems design and planning experience with an extensive study of all aspects of the customer's service provision specifications, to ensure the safe and efficient provision of waste collection services.
JJ's Waste & Recycling is committed to the provision of successful waste management operations to our customers. We also understand that education and training plays a large part in the ongoing success of waste management programs. It is for this reason that JJ's Waste & Recycling has developed an independent consulting division, EnviroCom Australia, which has the expertise and experience to develop environmental management programs and education packages specific to customer needs and requirements.
EnviroCom Australia has the ability to assist in the development of education strategies. For more information, please visit the EnviroCom Australia Website.
JJ's Waste & Recycling can offer the security of an extensive back up fleet and reserve drivers/operators to assist when required.
All vehicles are designed and purpose built by JJR Engineering. In addition, all vehicles are required to undergo a comprehensive maintenance schedule to ensure a safe, environmentally friendly and well-presented fleet throughout the life of the contract.